Call us for your free quote and ask us how you can save 10% off in your monthly bill.
GETTING THE BEST RESULTS FROM YOUR HOUSEKEEPER, MAID, JANITORIAL SERVICE OR CLEANING SERVICE.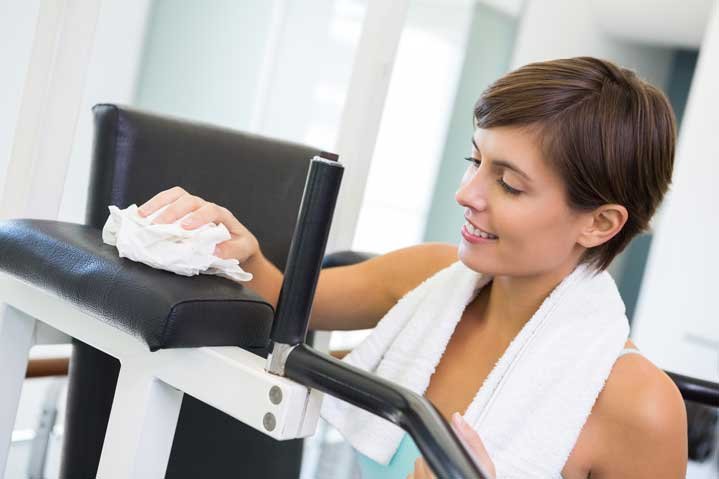 Looking for fitness cleaning services near Albuquerque NM? With many people touching the same surfaces throughout the day, your fitness center, gym or spa needs a professional cleaning service that is certified to use by everyone. At  ABQ Janitorial Services, we pride ourselves in making sure you have a clean and healthy workout environment.  ABQ Janitorial Services is cleaning Gyms, Spas and Fitness Centers. 
Feel Free to Call us now or book online quickly!
FITNESS CLEANING SERVICES
Since MRSA and many other infectious organisms can be spread by touching contaminated surfaces,  ABQ Janitorial Services Office Cleaning Services Franchised Businesses use hospital-grade disinfectants and color-coded microfiber towels and mop pads to properly clean surfaces, floors, restrooms and locker rooms. Advanced cleaning techniques focus on disinfecting high touch points that are often overlooked by other gym and fitness center janitorial services. A clean facility can differentiate your business and keep members coming back.
Help reduce the spread of colds, flu and other infectious germs
Control fungus and mold in showers, locker rooms, restrooms
Disinfect and professionally clean your fitness facility consistently
 ABQ Janitorial Services commercial cleaning services are provided by local and certified personnel.
Gym Cleaning Service and Fitness Center Cleaning Services mainly include disease control and prevention. Disease control and prevention is our goal when sanitizing gym and Fitness Centre, Martial Arts Schools and Dance Studios under Gym Cleaning Service and Fitness Center Cleaning Services.
It is possible to catch germs such as E. Coli, Human Papillomavirus and Influenza among others from tainted gym surfaces.

Beyond presenting Gym Cleaning Service and Fitness Center Cleaning Services we at  ABQ Janitorial Services will use hospital grade cleaning solutions, cleaning methods and equipment to service your facilities.  ABQ Janitorial Services will create scope of work designed to fit your facility's needs. Our Gym and Fitness Center Cleaning Services include sanitizing and disinfecting all restrooms, Floors and workout machines, pools, steam rooms and saunas. Entry, all glass and mirrors around your facility, trash removal and more.
Albuquerque NM Final Cleaning Service near me
Belen NM Final Cleaning Service near me
Bernalillo NM Final Cleaning Service near me
Bosque Farms NM Final Cleaning Service near me
Casa Blanca NM Final Cleaning Service near me
Cedar Crest NM Final Cleaning Service near me
Clines Corners NM Final Cleaning Service near me
Corrales NM Final Cleaning Service near me
Edgewood NM Final Cleaning Service near me
Espanola NM Fitness Center Cleaning near me
Estancia NM Final Cleaning Service near me
Gallup NM Final Cleaning Service near me
Grants NM Final Cleaning Service near me
Lemitar NM Final Cleaning Service near me
Los Lunas NM Final Cleaning Service near me
Moriarty NM Final Cleaning Service near me
Mountainair NM Final Cleaning Service near me
Pecos NM Final Cleaning Service near me
Peralta NM Final Cleaning Service near me
Placitas NM Final Cleaning Service near me
Rio Communities NM Final Cleaning Service near me
Rio Rancho NM Final Cleaning Service near me
Santa Fe NM Final Cleaning Service near me
Socorro NM Final Cleaning Service near me
Tijeras NM Final Cleaning Service near me
Tome NM Final Cleaning Service near me
ABQ JANITORIAL SERVICES
REQUEST MORE INFORMATION. CONTACT US