Call us for your free quote and ask us how you can save 10% off in your monthly bill.
GETTING THE BEST RESULTS FROM YOUR HOUSEKEEPER, MAID, JANITORIAL SERVICE OR CLEANING SERVICE.
Looking for Albuquerque interior window cleaning service? ABQ Janitorial Services provide interior window cleaning in Albuquerque NM.  ABQ Janitorial Services uses the newest tools with an extreme eye for detail and get up close on a ladder (with padded standoffs) to inspect every window so that we can reach every corner of the window for interior window cleaning. Affordably priced, our skilled window cleaners achieve brilliantly clean windows that shine. Call today, schedule online!
INTERIOR WINDOW CLEANING SERVICE IN ALBUQUERQUE NM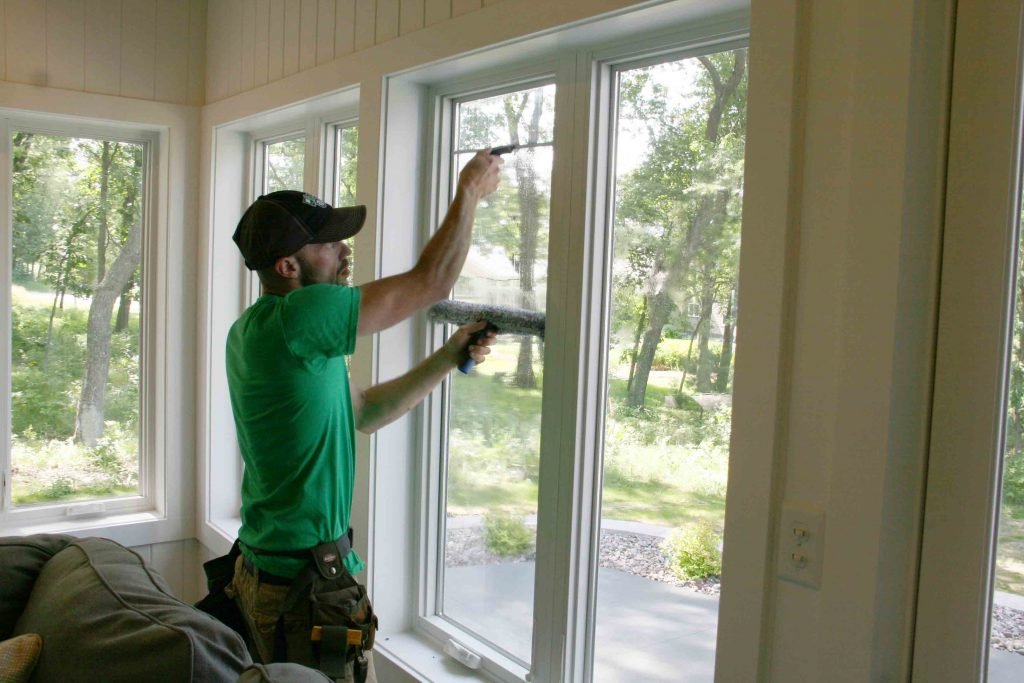 For a professional interior window cleaning service at your domestic or commercial property in Albuquerque NM and the surrounding area, look no further than ABQ Janitorial Services. With over 25 years' experience providing a leading interior window cleaning service to customers in this Albuquerque area, we have the expertise and knowledge to keep your windows looking sparkling clean at all times.
Affordable Window Cleaning Service
Top rated in Albuquerque
When you need a interior window cleaning contractor, you can depend on ABQ Janitorial Services for high quality services and prices you can afford. ABQ Janitorial Services believes our customers deserve squeaky clean windows, professionalism, and reliability. ABQ Janitorial Services treat our customers like family and go out of our way to ensure each and every customer is totally satisfied with our window cleaning services. ABQ Janitorial Services take on all window cleaning projects, both interior and exterior, for both residential and commercial customers. ABQ Janitorial Services also clean windows and skylights in hard to reach places.
ABQ Janitorial Services have built a reputation as the leading interior window cleaning service provider in the Albuquerque area because of our quality work, affordability, and superior customer service. ABQ Janitorial Services do one time interior window cleanings and we can also set you up on a window cleaning maintenance plan. Our goal is to start every window cleaning project on schedule and complete each cleaning in a timely manner while doing a thorough job in the process. So if you want a great deal and the best service around please give us a try and we will take care of all your window cleaning needs. Please fill out our simple contact form so we will can get back to you fast with a free quote for our services.
Steps carried out by ABQ Janitorial Services for interior window cleaning in order to get a professional finish:
Large dry brush or broom handle for removing cobwebs and dust
Bucket
Sponge
Squeegee
Purpose made window cleaning solutions or vinegar
Brown paper or newspaper
Microfibre cloth
Dry lint free cloth or drying pad
Albuquerque Interior Window Cleaning near me
Belen Interior Window Cleaning near me
Bernalillo Interior Window Cleaning near me
Bosque Farms Interior Window Cleaning near me
Casa Blanca Interior Window Cleaning near me
Cedar Crest Interior Window Cleaning near me
Clines Corners Interior Window Cleaning near me
Corrales Interior Window Cleaning near me
Edgewood Interior Window Cleaning near me
Espanola Interior Window Cleaning near me
Estancia Interior Window Cleaning near me
Gallup Interior Window Cleaning near me
Lemitar Interior Window Cleaning near me
Los Lunas Interior Window Cleaning near me
Moriarty Interior Window Cleaning near me
Mountainair Interior Window Cleaning near me
Pecos Interior Window Cleaning near me
Peralta Interior Window Cleaning near me
Placitas Interior Window Cleaning near me
Rio Communities Interior Window Cleaning near me
Rio Rancho Interior Window Cleaning near me
Santa Fe Interior Window Cleaning near me
Socorro Interior Window Cleaning near me
Tijeras Interior Window Cleaning near me
Tome Interior Window Cleaning near me
ABQ JANITORIAL SERVICES
REQUEST MORE INFORMATION. CONTACT US