Call us for your free quote and ask us how you can save 10% off in your monthly bill.
GETTING THE BEST RESULTS FROM YOUR HOUSEKEEPER, MAID, JANITORIAL SERVICE OR CLEANING SERVICE.
Searching for weekly restaurant cleaning services in Albuquerque NM? ABQ Janitorial Services Commercial Cleaning is a professional cleaning company that provides excellent and high quality cleaning services.  Our professional staff is always ready to offer the Premier cleaning solutions to ensure that our cleaning services meet your expectations. You always have the high standards in serving the high quality food. So, it is essential for you to carry the same standards in cleanliness of the kitchen. With our weekly restaurant cleaning services your working area along with the dining areas will be ready in pristine condition to serve your customers. Premier weekly restaurant cleaning services of Albuquerque! Free estimates. Contact us now or book online quickly! Cost of Weekly Restaurant Cleaning Services?
Free Estimates. Contact us now or book online Specialty House Cleaning Services quickly!
WEEKLY RESTAURANT CLEANING SERVICES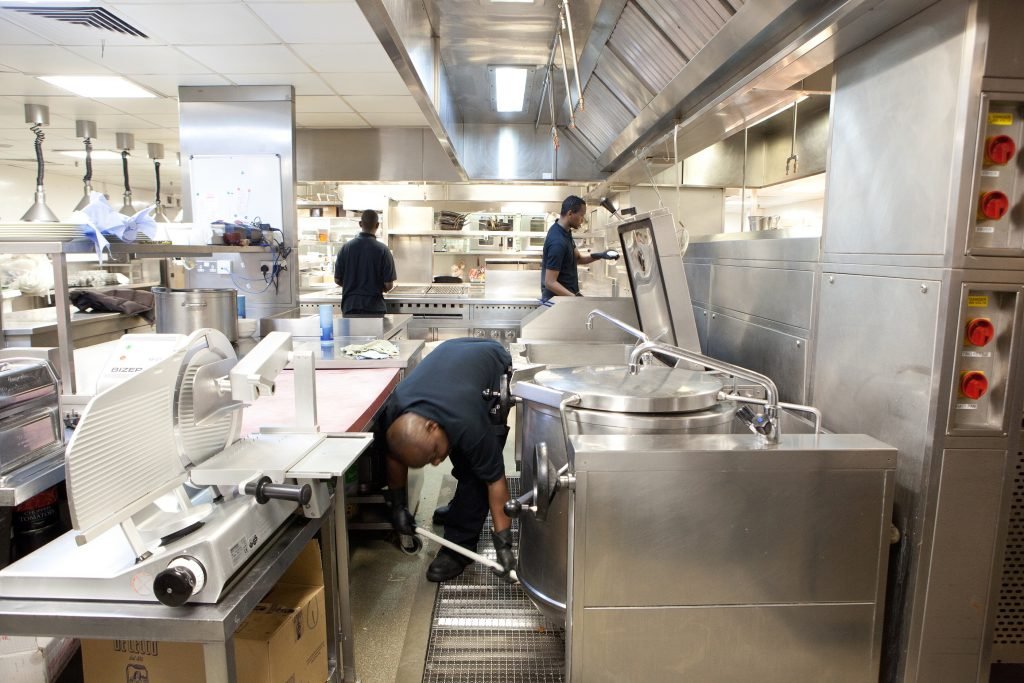 The cleaning staff of ABQ Janitorial Services will develop the strategy to customize the need of our every client. We are happy to provide the free estimate of our cleaning services and proceed towards their specification. We always work around your budget as well as time restraints to assure you complete satisfaction. You will surely come back to us once you avail our restaurant cleaning services.
ABQ Janitorial Services understand the reputation of your restaurant and food service. By keeping everything clean you will enhance the life of your kitchen equipment and will make your restaurant hygienic clean. Well-maintained dining space will keep your guests happy and will leave the Premier impression of your restaurant.
FOLLOWING WEEKLY RESTAURANT CLEANING SERVICES ARE OFFERED TO OUR CLIENTS  
Clean ovens, including the walls, door, and racks
Delime the sinks and faucets
Boil out the deep fryer
Wash and sanitize the walk-in refrigerators and freezers
Clean any anti-fatigue mats
Use drain cleaner on the floor drains
Dust and Wipe down the light fixtures
Wash glass windows and doors
Disinfect the door handles
SOME OF THE COMMERCIAL ENVIRONMENTS WE SERVE
Offices
Shops
Restaurants
Hospitals
Schools
Gyms
Churches
Apartments
New Construction Sites
Free Restaurant Cleaning Checklist
Restaurant Kitchen Cleaning Services
Restaurant Cleaning Services Rates
Restaurants Cleaning Procedures
Albuquerque NM Weekly Restaurant Cleaning Services near me
Belen NM Weekly Restaurant Cleaning Services near me
Bernalillo NM Weekly Restaurant Cleaning Services near me
Bosque Farms NM Weekly Restaurant Cleaning Services near me
Casa Blanca NM Weekly Restaurant Cleaning Services near me
Cedar Crest NM Weekly Restaurant Cleaning Services near me
Clines Corners NM Weekly Restaurant Cleaning Services near me
Corrales NM Weekly Restaurant Cleaning Services near me
Edgewood NM Weekly Restaurant Cleaning Services near me
Espanola NM Weekly Restaurant Cleaning Services near me
Estancia NM Weekly Restaurant Cleaning Services near me
Gallup NM Weekly Restaurant Cleaning Services near me
Lemitar NM Weekly Restaurant Cleaning Services near me
Los Lunas NM Weekly Restaurant Cleaning Services near me
Moriarty NM Weekly Restaurant Cleaning Services near me
Mountainair NM Weekly Restaurant Cleaning Services near me
Pecos NM Weekly Restaurant Cleaning Services near me
Peralta NM Weekly Restaurant Cleaning Services near me
Placitas NM Weekly Restaurant Cleaning Services near me
Rio Communities NM Weekly Restaurant Cleaning Services near me
Rio Rancho NM Weekly Restaurant Cleaning Services near me
Santa Fe NM Weekly Restaurant Cleaning Services near me
Socorro NM Weekly Restaurant Cleaning Services near me
Tijeras NM Weekly Restaurant Cleaning Services near me
ABQ JANITORIAL SERVICES
REQUEST MORE INFORMATION. CONTACT US